The Big Boat Build at Cranfield University
A group of Brooksward children took part in an exciting experiment at Cranfield University to test out their engineering creations in the huge wave tank facility, normally used to research marine structural concepts and behaviours. The children had been working hard on their boats during Engineering and Science Club, learning all about materials and shape.
On the day of the actual experiment several schools took part and there was a live video feed between our children at Cranfield University and the school hall where the rest of our children and staff we able to watch as the experiment unfolded. Brooksward we chosen to be filmed by Look East and we are proud to have appeared on Look East on TV that evening!!
KS1 Trip to Woburn Safari Park
Our Key Stage 1 children enjoyed a fantastic trip to Woburn Safari Park this week. Everyone had a super day and saw lots of different animals. It was a great opportunity for the children to see animals up close and personal! They especially loved the cheeky monkeys climbing on the coach and being able to pat the elephants. Thank you to our parents who volunteered to come along.
Foundation Stage trip to Green Dragon Eco Park
On Tuesday 4th June Foundation enjoyed a fantastic day at Green Dragon Eco Farm.
During the course of the day we got to meet a whole host of different animals and even got the opportunity to feed the goats and sheep. Many of the children enjoyed stroking the animals, Matilda observed, "the sheep felt very fluffy."
The children were fascinated by the array of creatures they saw in the pet zone.
Luke said, "We got to see a chameleon and he changes colour."
After having our lunch we made our way to the wildlife zone where the children were amazed to see a variety of different birds, a wallaby and even a silver fox.
Hannah said, "I liked the silver fox, he was sleeping. We called him Philip!"
The fun wasn't over yet as the children had a fantastic time in the play area, with Tashvi even writing in her farm recount that she loved bouncing on the bouncy pillows with her friends.
A brilliant day was had by all and the children impressed all the adults with their excellent behaviour. - Miss Mungham, Foundation Stage Leader
SCIENCE WEEK May 2019
We have had an amazing week of science in school this week.

Cranfield University, Anglian Water, Rockwell Collins, Sphere Science, MK Waste Recovery and MK University Hospital have all been in school this week inspiring us with the work they do.
The children took part in several workshops and experiments and have been able to see STEM in action and close up!
They enjoyed learning all about X-rays and how they work from one of our parents, Mrs Iurian.
Mr Stockford from Cranfield University, a lecturer in Aricraft Design helped them to design and fly their own aircraft wings in his workshop.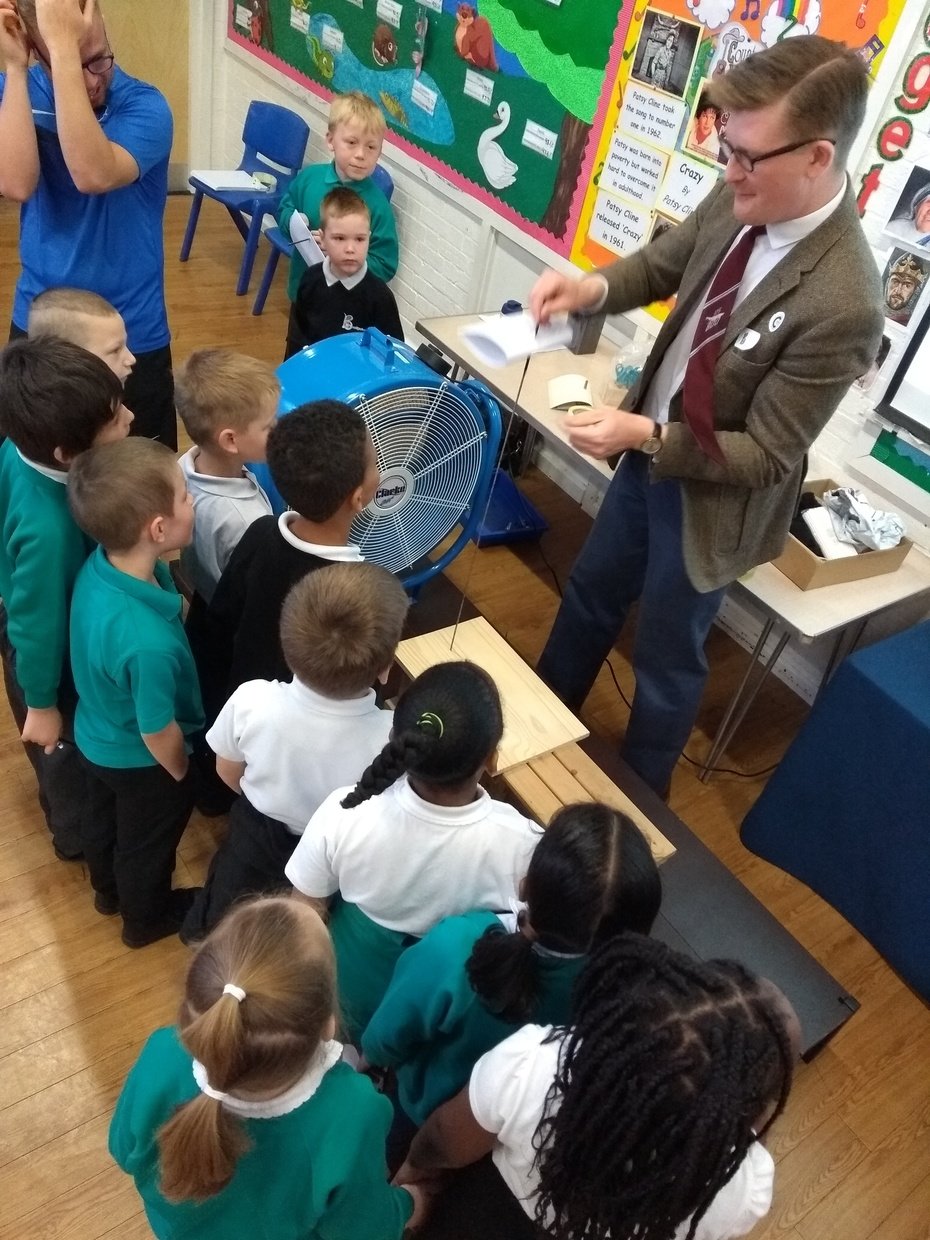 Whilst with Mrs Dearn, the children carried out an experiment looking at chromotography where they separated colours to make a rainbow. They were very surprised when they didn't use a blue felt tip but it appeared on their filter paper. They also made a drinks dispenser where the air pressure pushed out water from a bottle through a straw.
"That was fantastic!" commented Harrsion
"Wow! Look at all the colours it has made, " said Alfie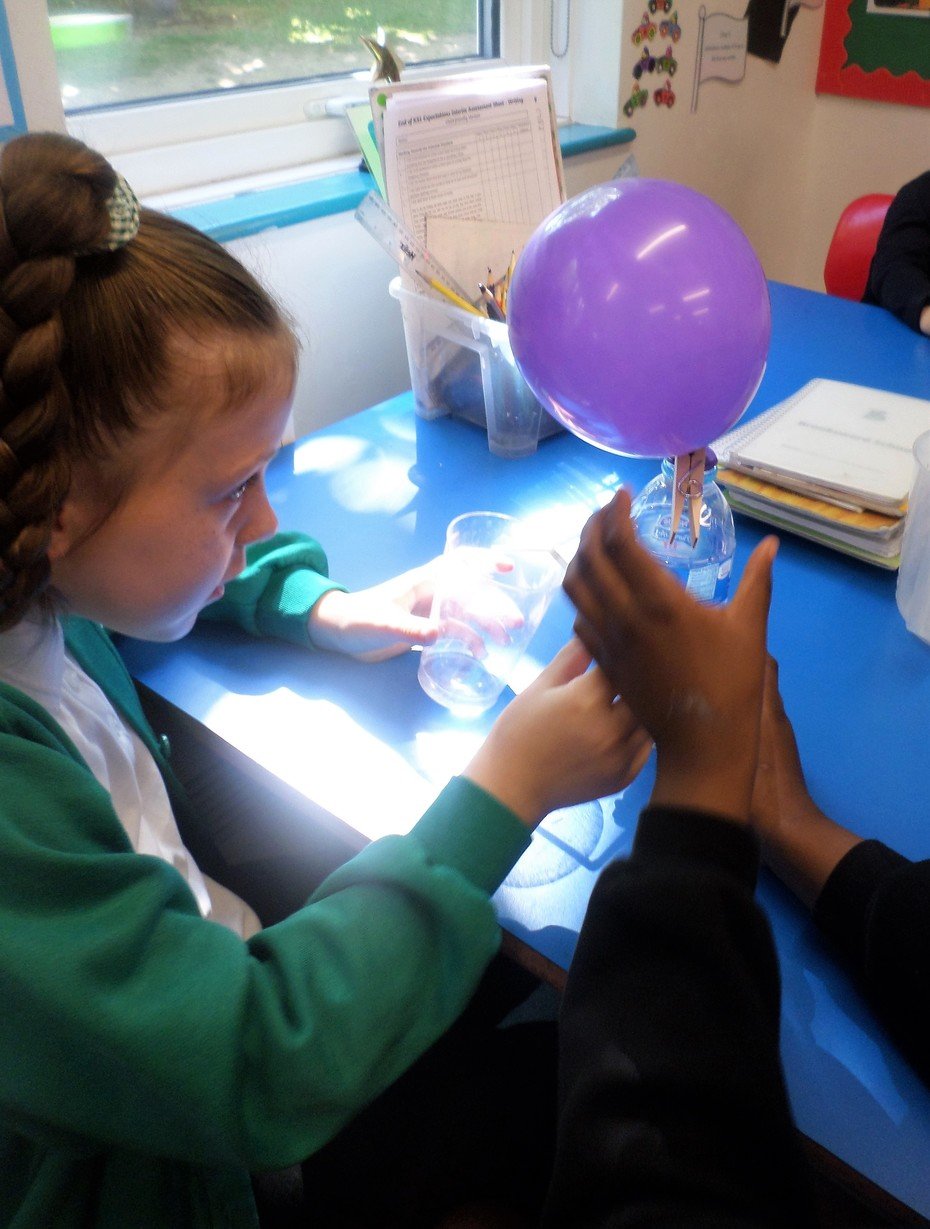 BIG BANG visit to Silverstone - March 2019
A group of children were recently given the opportunity to attend the Big Bang at Silverstone.
There was a range of exhibits that the children could explore covering a wide range of concepts under the STEM umbrella.
There were Robotics, Virtual and Augmented Reality and Construction themed exhibits promoting engineering skills.
Economics and Finance based activities to develop understandings within Mathematics. Even a stand showing Giant Snails, Snakes, Lizards and an Armadillo!
The children also took part in a Science workshop led by Atomic Science. Cosmic Chris presented a variety of experiments around the concepts of gas and liquids and how we manipulate them to achieve certain results. Hilarity ensued when the children where shown up close the effect air has on water when it is forced into a full water bottle! - Mr MacDonald
The children had a fantastic day. Here is what they had to say ;
"I like learning about the vortex because it was astonishing and was very enjoyable" - Muntasir
"The highlight of my day was holding a snake" - Kaydee
"The highlight of my day was seeing the F1 car and the vortex" - Taz
"The highlight of my day was the Science Workship because I didn't know some of the facts and it was fun " - AS
"I liked the armadillos because I learnt alot about them and I haven't seen them before" - Jenson
Explore Learning
In the Autumn term, a group of children attended a maths problem solving event run by Explore Learning. The children had a super time and we are very proud of them for displaying super skills in team work, facing challenges and working very hard. Well done!
KS1 Visit to the woods
Our KS1 children walked to the local woods on for a science investigation afternoon. They were there to learn about all the different types of trees and plants and the insects that inhabit them. They collected and classified several different insects.
STEM Visit to Silverstone
We were very excited recently to be invited to take a group of children to Silverstone.
Twenty five children from Years 5 and 6, chosen for their recent brilliant science work, spent the day at the circuit seeing practical demonstrations and asking questions of leading engineers about their work.
The children also took part in a very exciting KNEX competition with 3 of our pupils creating the fastest air rocket powered car!
The means that the Brooksward's name will appear on the fin of the 'Bloodhound Supersonic Car' as it competes for the next world record.
Brooksward Science Club Visit to Cranfield University - and meeting Royalty!
Children from across the school attended an event at Cranfield University where they presented their ideas and designs for the car of the future.
They spent the day finding out about what the university has to offer; how aeroplanes are designed, about the development of a toilet for countries that do not have running water, transport through the ages and they even got to try out a driving simulator.
We were lucky enough to meet HRH The Duke of Kent who was intrigued by the children's designs and asked them lots of questions about the luxuries they had included such as reclining chairs and personal servants.
We had a fantastic day. Thank you to Cranfield University for hosting, and inviting us. - Mrs Dearn
This is what our some of our children had to say :
"The best part of the day was explaining our car to the Duke of Kent" - Lucas
"I loved trying out the simulator and speaking to the Duke about my design" - Lily
"The best things were trying out the racing car simulator and speaking to the Duke about my design" - Sergio
"I enjoyed exploring the influential university which was full of old and new cars! I liked explaining my car design to the Duke of Kent. I also loved the free lunch!" - Gajieth
"The best part of the trip was learning about the aeroplanes and how the toilets on the aeroplanes work. It was interesting and disgusting!" - Krish